~*~*~ Crossposticated In Other Places~*~*~
August 13, 1966-August 13, 2006
40-year Anniversary of The Day
We Saw The Beatles In Person!
CLICK ALL PICS IN THIS POST FOR LARGER IMAGES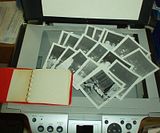 Ah! How nice that I got my new scanner operative just in time to make actual scans of our concert snapshots. So this year we don't have to rely upon the old
aim-the-digital-camera-at-the-scrapbook
routine!
(
Collapse
)

For your amusement, I have also unearthed a vintage photo
of myself, at approximately 18-19 years of age (1968/69-ish).
My, don't we look solemn!